Description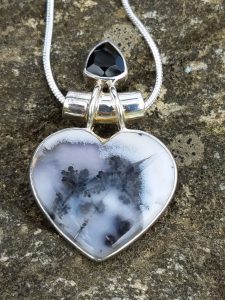 Heart-shaped Pendant Dendritic Agate Merlinite Necklace
The pendant measures 1 1/2 inches. The setting is made of 925 Sterling Silver.
Necklace comes with an 18-inch 925-Sterling Silver Serpentine Chain.
Availability: 1
Please note: due to photography lighting, there are some photos that show glare or lights in the stone's reflection.
Dendritic Agate Merlinite Energetic Qualities
The energies of the dendritic agate are said to promote focus, inner strength and wisdom.  Resonates with the third eye chakra and crown chakra.  Merlinite has been associated with Merlin the Wizard, shamanism, and honing intuitive and psychic abilities.
"This stone is actually a dendritic agate that is mostly white with black dendrite "branches"; a combination of quartz (the white in this stone) over psilomelane (manganese oxide)…the black in this stone. The psilomelane has a tree branch-like pattern to it & that's where it gets the "dendritic" part of its name."-Hibiscus Moon of Hibiscus Moon Crystals