Description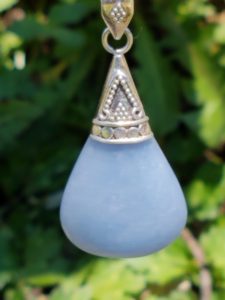 Owyhee Opal 925 Sterling Silver Pendant Necklace
This gemstone hangs from a beautiful handmade decorative bail setting comprised of 925-Sterling Silver.
This necklace comes with a 925-Sterling Silver Serpentine chain.
Pendant size: 1-1/2 inches long.
Availability: 1
Please note that the stone color is of a lighter blue hue as seen in this photo (vs in the second photo taken against a natural stone in a shaded area).