Description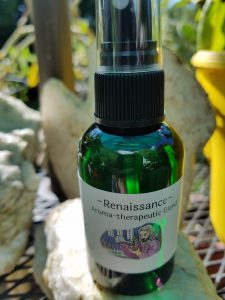 Renaissance aroma-therapeutic Blend
Contents: Jojoba (Simmondsia chinensis), Cinnamon leaf (Cinnamomum zeylanicum), Eucalyptus (Eucalyptus radiata), Geranium (Pelargonium graveolens),  Ginger (Zingiber officinale), Hyssop (Hyssopus officinalis), Lemon (Citrus limon), Ravensara (Ravensara aromatica), Rosemary (Rosmarinus officinalis ct. verbenone).
Apply a small amount of the blend to neck and chest areas. Spritz onto a tissue for inhalation as needed.
Cautions: Shake well before each use. Topical use only. Avoid use during pregnancy. Do not get the near eye areas. If irritation occurs, discontinue use. Keep out of the reach of children and pets.
Size: 2-oz./60-mL aroma-safe mist spray top.