Description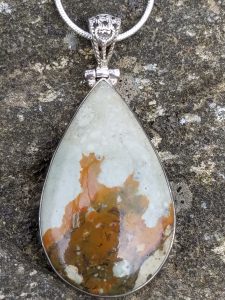 Rocky Butte Jasper 925 Sterling Silver Pendant Necklace
This gemstone is called Rocky Butte Jasper and is encased in a 925 Sterling Silver setting with a beautiful bail connector.
Necklace comes with an 18-inch Sterling Silver Serpentine chain.
Pendant size: 2-inches.
Interesting info.
Rocky Butte Jasper resonates with the root chakra and solar plexus. Wear this stone to feel connected to the earth and nature. It is said to aid in concentration and feeling centered and grounded.