Description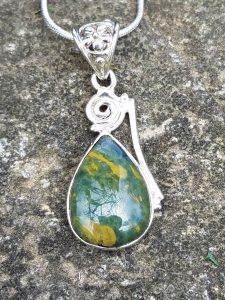 Rainforest Jasper 925 Sterling Silver Pendant Necklace
This gemstone is a Rainforest Jasper encased in a beautiful 925 Sterling Silver setting. Bail design is of pretty florals attached to a reiki healing symbol.
Necklace comes with an 18-inch Sterling Silver Serpentine chain.
Pendant size: 2.75 inches.
Availability: 1
Interesting Info: Rainforest Jasper is said to bring inner joy and happiness during times of grief and sadness. The stone's beautiful green forest hue resonates with the heart chakra and strengthens one's connection with nature, especially animals and plants.