Description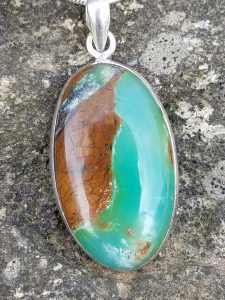 Boulder Chrysoprase 925 Sterling Silver Pendant Necklace
This earthy looking gemstone so pretty. It fills the oval-shaped (color opalescent apple-green and brown bark-like hues) 925 Sterling Silver setting.
Necklace comes with a 16-inch 925 Sterling Silver Serpentine chain.
Pendant size: 1 2/3 inches long.
Availability: 1
Resonates:  Boulder Chrysoprase is known as the stone of the warriors. It is said to help one focus and clarity in overcoming obstacles.
"Commonly found in Australia or Brazil, the Boulder Chrysoprase is one of the rarest in the group of chalcedony stones. Used throughout the ages by the Greeks, Romans, and the Egyptians in a variety of different jewelry and custom settings."-Ana Silver Co.