Description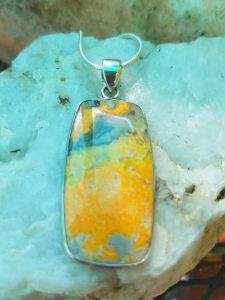 Indonesian Bumble Bee 'Jasper' 925-Sterling Silver Pendant
Necklace comes an 18-inch 925-Sterling Silver Serpentine chain.
Size: 2-inches long.
Interesting notes: Indonesian Bumble Bee 'Jasper' is often named with the word 'jasper', yet, it is not a true jasper (some would consider it more so an agate) as it is formed from a mixture of volcanic lava and sediment versus quartz. A unique stone with each piece having its own variation of yellow, orange, grey, and black colored striations. This rock was first discovered on Mount Papandayan, West Java, Indonesia.